LAON is an all-volunteer group dedicated to preserving the health and beauty of Norway's four lakes: Sand Pond, Hobbs Pond, North Pond and Lake Pennesseewassee.  We protect the lakes from harmful invasive plants and pollutants, monitor and report on each lake's condition, encourage responsible recreation, and conduct a broad based awareness campaign to reach our entire watershed community.
Our members enjoy swimming, boating, fishing and other water sports during the summer and ice fishing, snowmobiling, cross country skiing and skating on the lakes all winter.
Our sponsors are caring local businesses which recognize the connection between the quality of our lakes and local economic vitality. The Town of Norway is our main partner; we are grateful for its ongoing support. Our business sponsors are listed on Thanks to Our Sponsors.
We need you to Invest in our future.  We rely on annual membership dues and business sponsorship to support our work. (All donations are fully tax exempt)
What's New
LAON 2016 Annual Meeting Minutes
---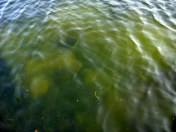 What are those green algae globs?
This summer's weather has resulted in perfect conditions for the growth of a type of algae called Metaphyton.  Though it is unsightly, the good news is that it is not the same as an "algal bloom" that is a sure sign of water quality problems. Read More…
---
Would you like to be on our email list?  (We only send a few messages each year and we won't share our address list.) Just complete this form or Email: laon@norwaylakes.org. Don't forget to add us to your address book so that our messages reach you!