LAON is an all-volunteer group dedicated to preserving the health and beauty of Norway's four lakes: Sand Pond, Hobbs Pond, North Pond and Lake Pennesseewassee.  We protect the lakes from harmful invasive plants and pollutants, monitor and report on each lake's condition, encourage responsible recreation, and conduct a broad based awareness campaign to reach our entire watershed community.
Our members enjoy swimming, boating, fishing and other water sports during the summer and ice fishing, snowmobiling, cross country skiing and skating on the lakes all winter.
What's New / Events
The 2nd annual Enid Dullea Length-of-the-Lake Swim was held on Aug 20, 2017 on Lake Pennesseewassee.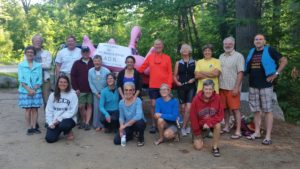 2017 Swim the Lake Participants & Support
Sponsorship
Our sponsors are caring local businesses which recognize the connection between the quality of our lakes and local economic vitality. The Town of Norway is our main partner; we are grateful for its ongoing support. Our business sponsors are listed on Thanks to Our Sponsors.
We need you to Invest in our future.  We rely on annual membership dues and business sponsorship to support our work. (All donations are fully tax exempt)
LAON Shirts
We were pleased to announce that we have designed, and have available for sale, a variety of LAON shirts!  Please consider buying shirts for yourself, your family members and maybe even your frequent guests.  When we begin to wear these shirts around town, we will be sparking awareness of what LAON does for our entire community.
The attached document titled "LAON Shirt Samples" provides all color, style and fabric choices available, and you can place your order using the attached "LAON Shirt Order Form".  Prices include all required taxes. Shirts must be purchased by check payable to LAON and sent to the address on the Order form. They will be available about 2 -3 weeks after ordering.
We will contact you as soon as your shirts are ready for pick-up.  Please be sure to provide your phone number and email on the order form to facilitate communication.  If you have any questions, please contact Pat Daniels at patois49@gmail.com
---
Would you like to be on our email list?  (We only send a few messages each year and we won't share our address list.) Just complete this form or Email: laon@norwaylakes.org. Don't forget to add us to your address book so that our messages reach you!